Obstacle Course Rental Lubbock TX
Rent JER has the best obstacle course rental Lubbock TX has to offer. We're the thrill-seekers' dream, the party planner's best friend and the key to unlocking an event people will talk about for ages! You don't have to pretend you're on a game show to experience an obstacle course that challenges your skills and pumps up the fun in Lubbock, Texas .
So, why is our team all the rage? First up, we've got variety! From beginner courses for the kiddos to extreme challenges for adults, we've got something for everyone. Not to mention our fantastic quality. Don't get us started! We've got the obstacle course rental Lubbock TX knows is designed with the highest safety standards, so you can focus on fun while we take care of the nitty-gritty details.
Did we mention how easy it is to work with us? Our team of party pros is always ready to lend a hand, from choosing the perfect obstacle course to ensuring everything runs smoothly on the big day. We've been Lubbock's go-to for awesome events, so we know a thing or two about making your occasion a smashing success.
Time to seal the deal? Browse our website and select the obstacle course rental Lubbock TX kids and parents love. Once you decide to reserve your tent rentals with our team, you won't want to rent from anyone else. So jump, slide, and climb your way into the hearts of your guests and make your event the talk of Lubbock!
An Obstacle Course Lubbock Can Depend On For Any Event
We've got the obstacle course Lubbock uses to add an exciting twist to a variety of events, making them unforgettable experiences for all.
Birthday Parties: Make blowing out candles look like child's play; we've got the blow up obstacle course rental Lubbock TX kids know are the real stars of the show.


Corporate Team Building: Forget stuffy conference rooms; challenge your co-workers in an obstacle course to build camaraderie and teamwork.


Community Festivals: Use our Lubbock Texas obstacle course rental to give locals the chance to engage in some friendly competition while enjoying the festivities.


School Carnivals: Kiddos can bounce and crawl their way through a fun-filled day that's sure to earn an A+ in excitement.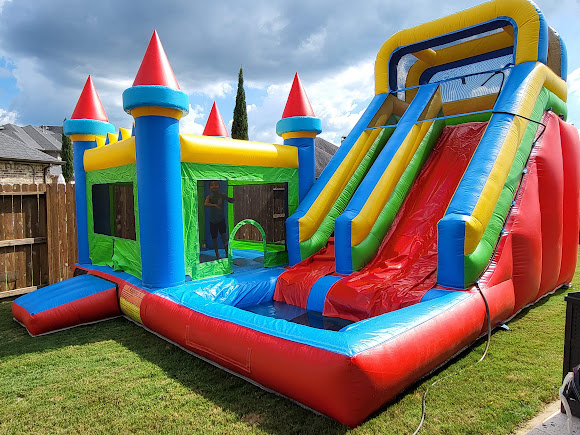 Fundraisers: Raise more than just funds; raise the roof with the thrilling challenge our obstacle courses bring.


Church Events: Congregations can grow closer not just in spirit, but in a fun and physical way too!


Weddings: A quirky twist to the traditional celebration—we've got the adult obstacle course rental Lubbock TX couples will adore. Our courses are perfect for couples who are kids at heart.


Sports Events: Supplement the main event with a side of obstacle course fun that participants and spectators will love.


Reunions: Give family members a unique way to reconnect with our obstacle course rental near Lubbock TX. Everyone will agree that this is way better than just sitting around a picnic table.


Holiday Celebrations: Spice up any seasonal get-together with an obstacle course that's fun for all ages.
Each of these events becomes even more memorable when you bring the obstacle course Lubbock recommends into the mix!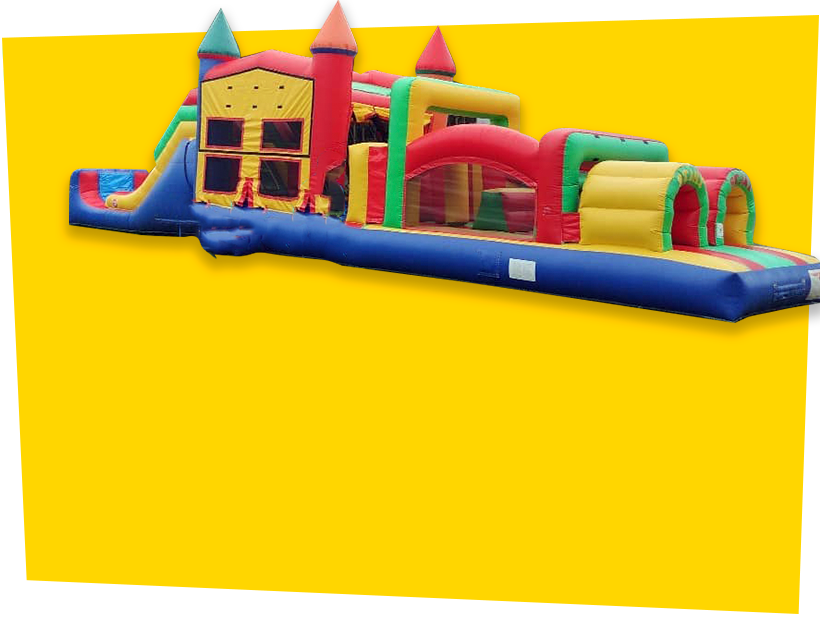 The Best Selection of Obstacle Course Rental in Lubbock TX
When it comes to our obstacle course rental in Lubbock TX, we understand that one size doesn't fit all—especially when it comes to fun! That's why we offer a stellar range of obstacle course sizes to match any event, whether it's an intimate backyard bash or a full-blown festival. Need a compact course for the kids? We've got it covered. Hosting a grand gala and want an obstacle course that's the life of the party? We have those too. Our selection is designed to accommodate spaces and crowds of all sizes, ensuring you never have to compromise on excitement. With our team, variety is truly the spice of life—and parties!
Ready to be the king or queen of your castle? Our Castle Obstacle Course is your royal gateway to fun, all for a starting rental price of just $169.00. Measuring 11'W x 11'H x 25'L, this is the inflatable obstacle course Lubbock TX prefers for smaller spaces, but don't let its size fool you—it's jam-packed with thrills! And hey, if you're looking to go BIG, this unit can also attach to one of our banner castles, extending the fun up to a jaw-dropping 65 feet long. It's like having your very own kingdom of entertainment! So why settle for less when you can reign supreme with our team's Castle Obstacle Course?
Get ready to dive into a world of color and adventure with our 50ft Multi-Colored Obstacle Course. With dimensions of 20'W x 55'L x 12'H, this is the large blow up obstacle course Lubbock TX uses as a feast for the eyes and a challenge for the brave. And don't worry about breaking the bank—the fun starts at just $375.00! Whether you're zipping through barriers or racing your pals to the finish line, this course is a high-octane journey from start to finish. Ideal for larger events or anyone who wants to make a BIG splash, this 50-footer from our team is the ultimate way to elevate your celebration. Don't miss out on the fun; get ready to conquer the colors!
Hold onto your party hats because our team is bringing you the mother of all obstacle courses—the Giant 110ft Long Obstacle Course! This isn't just any inflatable setup; we're talking two mammoth slides and two towering inflatable palm trees that are guaranteed to wow your guests. All this jaw-dropping excitement can be yours starting at just $999.00. With this enormous course stretching 110 feet long, you'll have more than enough room to dash, climb, and slide your way to an unforgettable day. Ideal for those who live by the motto "go big or go home," this obstacle course is the ultimate fun empire, right in your own backyard or event space!
How To Rent An Obstacle Course In Lubbock TX
We know you're super excited to rent an obstacle course in Lubbock TX for your event, and we've made the booking process a breeze. No stress, no fuss, just pure, unadulterated FUN! Here's how you can secure your very own obstacle course online:
Select the obstacle course jumper rental Lubbock TX has to offer.


Choose the rental date that fits your party timeline.


Pick your event start time so we can roll in right on schedule.


Set your event end time to make sure the fun lasts as long as you want.


Review your choices and get the final price before you hit that checkout button.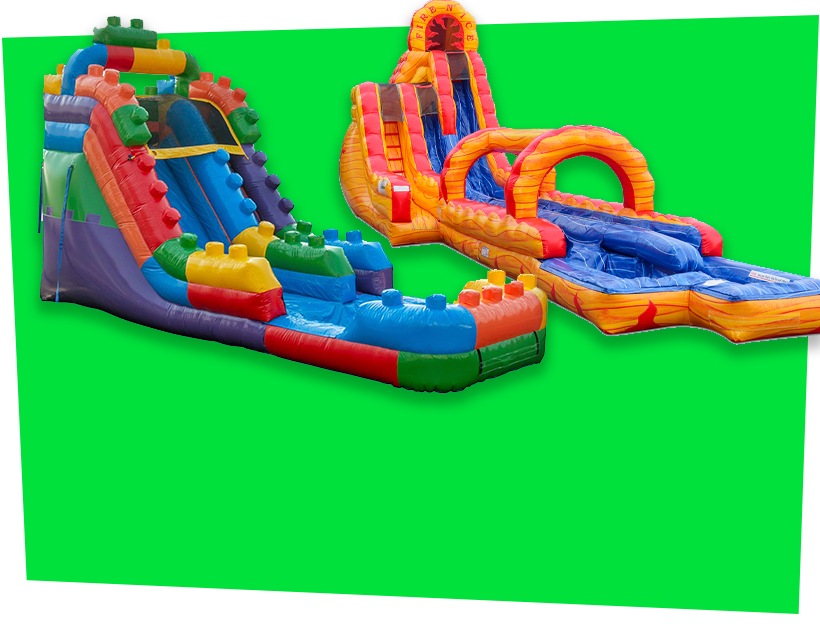 And just like that, you're on your way to rent an obstacle course in Lubbock TX for the bash of the century!
We Deliver The Inflatable Obstacle Course Rentals Lubbock Texas Can Trust
Rent JER isn't just another rental company; we're your neighbors and part of the heartbeat of Lubbock, County. We're proud to serve zip codes 79401, 79402, 79403, 79404, 79406, 79407, 79408, 79409, 79410, 79411, 79412, 79413, 79414, 79415, 79416, 79423, and 79424. We're all about elevating your events to new levels of awesome. We also love giving back to the community through our partnership with the Lubbock Independent School District because, let's face it, our kids deserve epic school events too! We're the perfect company to provide events like that, so there's no longer any reason for customers to endlessly search for "obstacle course rental near me Lubbock TX".
After you've had your share of obstacle course awesomeness, why not make a day of it at some of Lubbock's local gems? We encourage our customers to check out Mackenzie Park, Clapp Park, and Maxey Park for some fresh air and fun in the sun. If you're in the mood to kick things up a notch, consider sourcing some top-notch gear from party rentals Lubbock TX to make your outing truly memorable. For a dash of culture, you don't want to miss the Buddy Holly Center, National Ranching Heritage Center, and The Depot District. Trust us, Lubbock has a whole lot to offer, and our team is thrilled to be part of this vibrant community.
FAQs About Our Lubbock Obstacle Course
Do you have questions about our Lubbock obstacle course? No worries; our FAQs section is packed with information to guide you through your obstacle course rental journey!
Q.
How much does it cost for an obstacle course rental?
A.
Our obstacle course rentals start at $169. Prices vary depending on the size and features of the course.
Q.
How do I book obstacle course rentals?
A.
Booking the bounce house obstacle course rental Lubbock TX currently recommends is easy! Visit our website, choose your preferred obstacle course, select your rental date and event times, and then review and confirm your booking.
Q.
Are your obstacle course rentals suitable for all ages?
A.
Absolutely! We have a variety of courses that cater to all age groups, making sure everyone has a good time with the wipe out obstacle course rental Lubbock TX needs.
Q.
Do you have any large obstacle course rentals?
A.
Oh, you bet! We've got the giant inflatable obstacle course rental Lubbock TX can't get enough of. Our giant 110 ft long obstacle course with two giant slides and two inflatable palm trees is a crowd-pleaser.
Q.
Do you offer any discounts?
A.
We do offer special pricing for the party obstacle course rental Lubbock TX prefers. We can offer pricing options for large events and long-term rentals. Contact us for more details.
When it comes to our Lubbock obstacle course, we make sure that all your questions are answered. If there are any additional questions or something that we did not discuss, be sure to reach out and contact our helpful and supportive team.
Reviews For Our Lubbock TX Obstacle Course Rental
When it comes to our Lubbock TX obstacle course rental our 5-star ratings say it all! Our awesome customers can't stop raving about the incredible fun they've had with our obstacle courses. From the tiniest tots to the young at heart, everyone's getting in on the action and loving it. Our obstacle courses are not just about the thrill; they're also about top-notch safety, cleanliness, and punctuality in delivery. It's a whole package that turns first-time renters into loyal fans. So, why settle for less when you can experience the best with our team?
Background color: Color Theme 1
What Customers are Saying
"Rent JER is the real deal! I booked their multi-colored 50-foot obstacle course for my company's team-building event, and it was a massive hit. The setup was professional, and the unit was spotless. My team is already asking when we're doing it again. Five stars!"
- John W.
"Wow, what can I say? I rented the smaller castle obstacle course for my daughter's birthday, and it was the star of the party. The kids couldn't get enough of it! Not only did Rent JER deliver on fun, but they were also timely and took care of all the setup and takedown. I'm definitely a Fan!"
- Tilly S.
"I organized a community fair and opted for the giant 110ft obstacle course from Rent JER. Let's just say, it was the highlight of the event. Both kids and adults were lining up to have a go! Everything from booking to delivery was smooth as butter. Rent JER has earned another loyal customer!"
- Aiden F.
Previous
Next