Water Slide Rental Lubbock
Get ready to elevate your events with the water slide rental Lubbock can't get enough of from Rent J-E-R! We're your ultimate choice for water slide rentals that promise an unparalleled rush of excitement in Lubbock, Texas. We're your neighborhood's favorite spot for festive and fun water slide rentals, with options designed to entertain the whole family. Whether you're into exhilarating high-speed slides or something a bit tamer for the little ones, we're the local go-to for making your backyard the place to be.
Why do your neighbors choose us? It starts with friendly customer service that makes you feel like part of the Rent J-E-R family. Our hassle-free online booking system makes reserving the water slide rental Lubbock customers love as simple as a click. We're proud to offer competitive pricing and budget-friendly options to meet your needs. We're here to ensure you get the most splash for your cash!
But don't just take our word for it—experience the difference yourself. Our full-service approach includes prompt delivery, expert setup, and efficient teardown, leaving you free to enjoy the fun. When you choose Rent J-E-R, you're not just booking a water slide rental Lubbock uses year-round; you're investing in an event full of laughter, excitement, and memories. Dive in and discover why we're the local favorite for turning up the heat on your outdoor fun!
The Water Slide Rentals Lubbock Texas Uses For Any Event
We've got the water slide rentals Lubbock Texas knows are the ultimate recipe for adding excitement to a range of exciting events. Whether you're throwing a backyard birthday bash, a county-wide festival, or an end-of-the-year school field day, our exciting water slide rentals will keep the entire guest list entertained.
Birthday Parties: Turn your child's special day into a fun-filled adventure that's bound to leave them grinning from ear to ear with the water slides Lubbock TX kids go crazy for.


Community Festivals: Infuse your local festivities with the inflatable water slide rental Lubbock TX rents as a refreshing element that both kids and adults can enjoy together.


School Carnivals: Elevate the fun factor at school events by offering a thrilling blow up water slide rental Lubbock TX kids will talk about for weeks and weeks.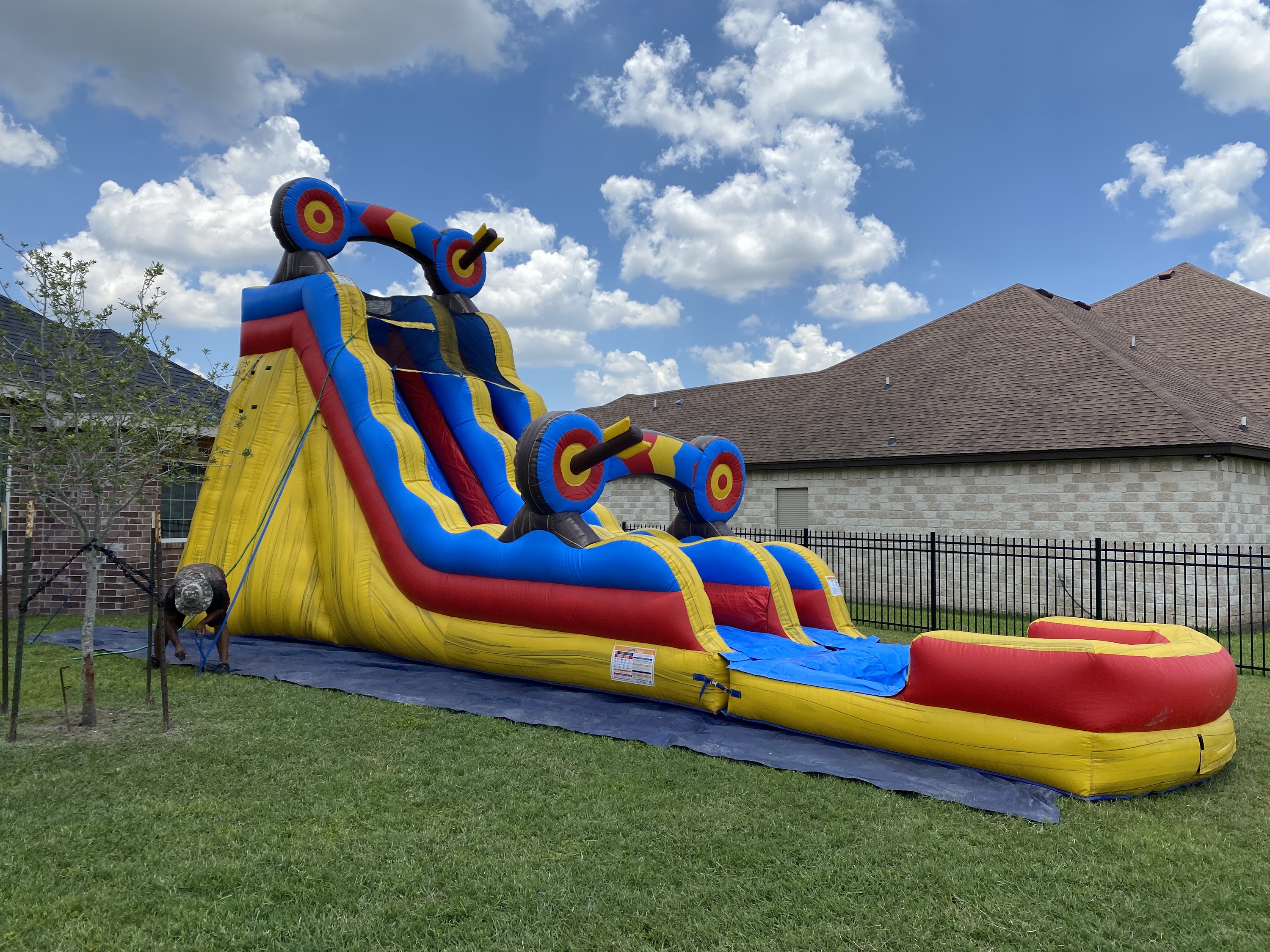 Company Picnics: Make a corporate gathering unforgettable with an adult water slide rental Lubbock TX companies can rent to encourage colleagues to bond and let loose.


Summer Camps: Create lasting memories for young campers with exciting water slide escapades that beat the summer heat.


Church Gatherings: Bring families together at church events by offering a dynamic and enjoyable water slide experience.


Family Reunions: Add a splash of excitement to family gatherings, giving relatives of all ages a reason to laugh and play.


Block Parties: Transform your neighborhood block party into a wet and wild affair that brings the community closer.


Sports Team Celebrations: Give sports teams a unique way to celebrate their achievements with a Lubbock water slide that fosters team spirit and camaraderie.


Daycare Events: Delight young children at daycare events by offering an engaging water slide adventure that keeps them entertained and active.
Choose the #1 water slide rentals Lubbock Texas can provide for any event and bring nonstop fun to your next party! Schedule a rental online today, and our team will deliver serious excitement right to your doorstep.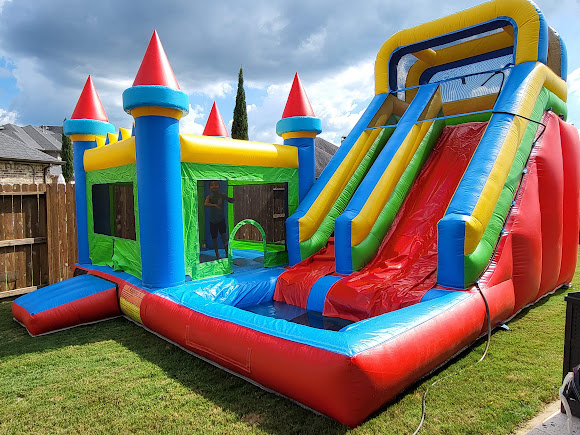 Water Slide Rentals Lubbock Can't Get Enough Of
Rent J-E-R has the water slide rentals Lubbock depends on to add fun and excitement to any event! From towering slides that send thrill-seekers plummeting into the pool to gentle slides perfect for the little ones, our inventory has something for everyone. We've got the water slide jumper Lubbock TX uses for hosting a high-energy summer party, a family reunion, or a community event. Our water slide rentals come in various sizes, themes, and configurations to ensure a perfect fit. Each slide is meticulously maintained, ensuring both safety and top-notch fun. At Rent J-E-R, we're committed to turning your event into a splash-worthy experience that leaves everyone smiling.
Customers who rent our Tropical 2-lane Water Slide with Pool know without a doubt that we're the best place to rent a water slide in Lubbock TX! Standing tall at 18 feet and stretching 38 feet in length, this colossal slide promises an adrenaline-pumping adventure like no other. The dual lanes are perfect for racing your friends to the bottom, igniting a friendly competition that ends with a splash into the massive pool below. Starting at just $279.00, this tropical paradise on the move is designed to elevate your event into a wet and wild wonderland. Ideal for all age groups, this is the giant water slide rental Lubbock TX guarantees will provide laughter, exhilaration, and memories that will last a lifetime. If you're seeking the ultimate aquatic thrill, the Tropical 2-Lane Water Slide with Pool from Rent J-E-R is your ticket to a summer celebration that's nothing short of epic.
Introducing the incredible 17 ft tall Rockin Wave 2-lane Water Slide with Pool, ready to bring the ultimate water adventure to your backyard. We've got the birthday water slide rental Lubbock TX prefers. This water slide is perfect for large parties, and standing tall at 17 feet, it is the centerpiece your summer event needs. With dual lanes for racing to the bottom and making a splash in the pool, it's the perfect thrill. Safety is paramount, featuring high side walls, safety netting, and a non-slip climbing surface. Crafted with quality materials, it's both durable and stable. Setting up is a breeze with the included electric blower. Starting at just $350, make a splash at birthdays, family reunions, or summer gatherings with the Rockin Wave Water Slide.
Our Super Classic Tropical Water Slide is a colossal unit that doubles the excitement with two racing lanes down the slide into the pool. Ascend the central steps, then take your pick from the two lanes for an exhilarating slide into the pool below. This is the inflatable jump house slide in Lubbock TX that is unforgettable. Starting at $459.00, this water slide promises boundless fun and a refreshing splash at your event. Get ready to amplify the fun factor, whether it's a birthday bash, a family reunion, or a summer celebration. The Super Classic Tropical Water Slide is your gateway to an unforgettable aquatic adventure.
How to Book Our Lubbock Water Slide Rentals Online
Booking our Lubbock water slide rentals online is simple and straightforward with our easy-to-use reservation system. Whether you're browsing our site using your iPhone or visiting our online booking platform with your laptop, our mobile-friendly and responsive reservation system is built with your convenience in mind. Follow these steps to secure the splash-tastic fun:
Browse Our Exciting Water Slides: Dive into our Lubbock Texas water slide rental inventory and pick the one that suits your event's vibe. From towering slides to dual-lane wonders, the choice is yours.


Choose Your Rental Date: Select the date when one of our fabulous waterslides is set to make waves. Make sure it aligns perfectly with your plans.


Set Your Event Start and Times: Let us know when the water slide excitement will begin and wrap up. Planning is key to ensuring everyone gets their fair share of the fun. Our team will arrive before the start of your event to assemble the water slide bounce house rental in Lubbock TX.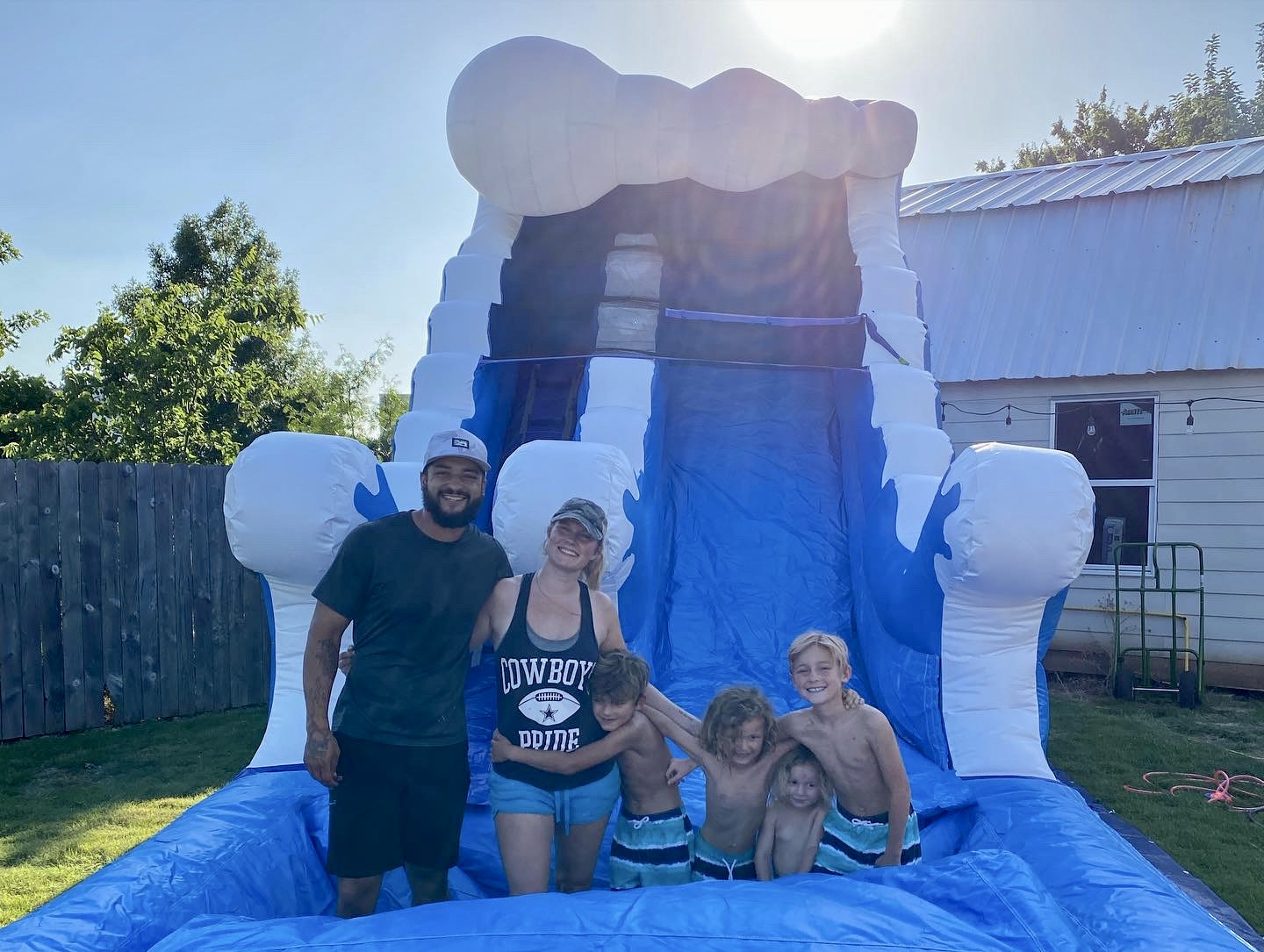 Review Your Cart: Take a moment to review your selections and the corresponding price. We want to ensure everything lines up perfectly! Be sure to check out our concessions, interactive games, and the #1 table and chair rentals Lubbock has to offer to complete your event.


Securely Checkout: Once you're satisfied with everything in your cart, proceed to the checkout page, where you'll be guided through the payment process. Your splash-worthy event is just a few clicks away!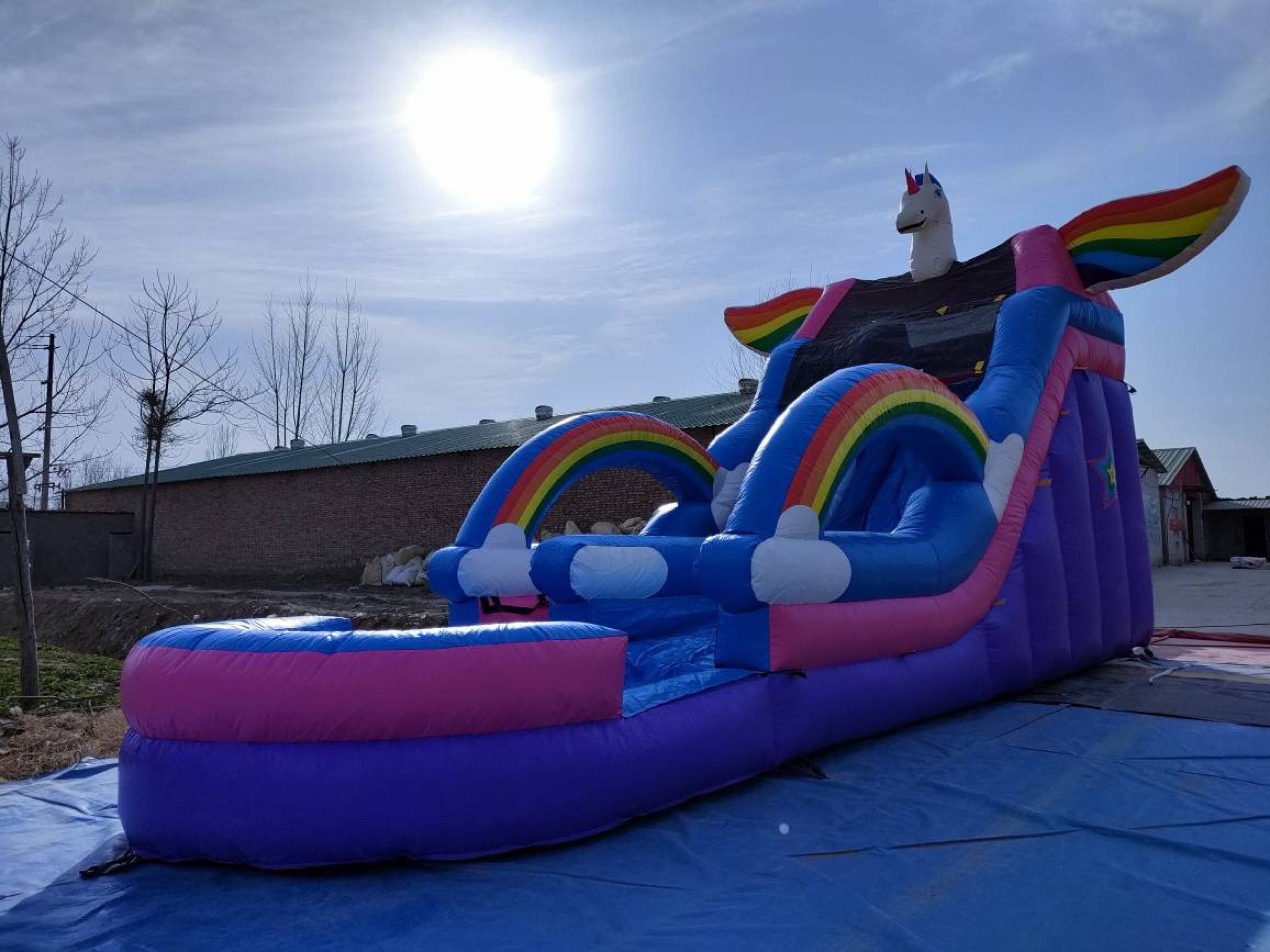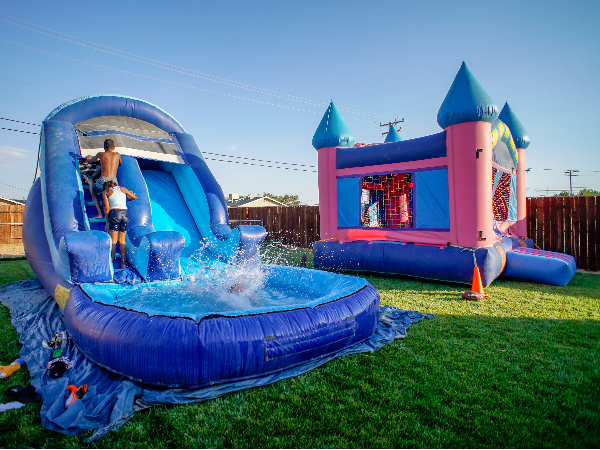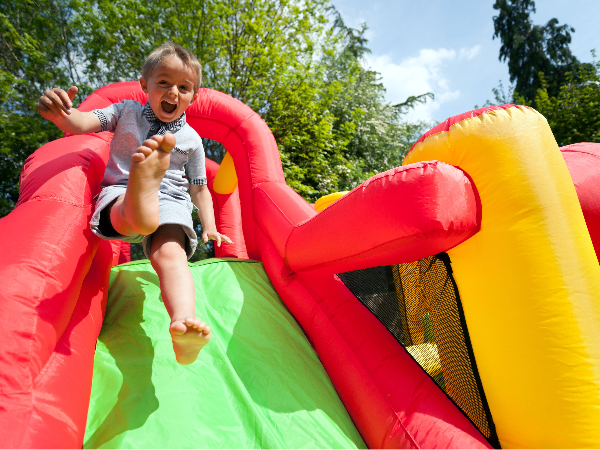 Once you submit payment, you'll receive a confirmation email with a digital copy of your receipt. One of our team members will then be in touch to confirm a delivery window that works for you. If you'd rather speak directly with our staff to order your water slides, feel free to give us a call at (806) 705-7057. Booking Lubbock water slide rentals with Rent J-E-R is simple and stress-free. Ready to add a wave of excitement to your event? Let's make it happen!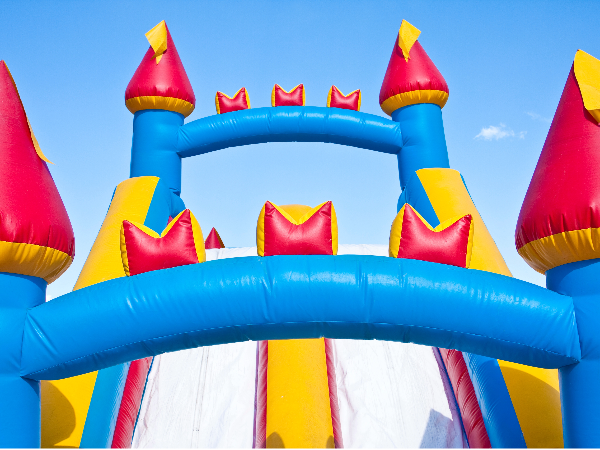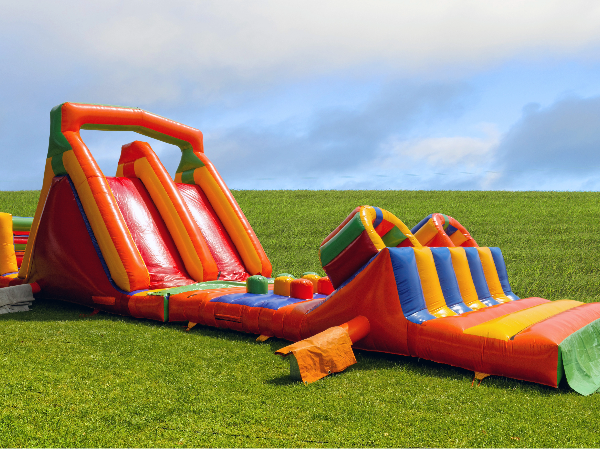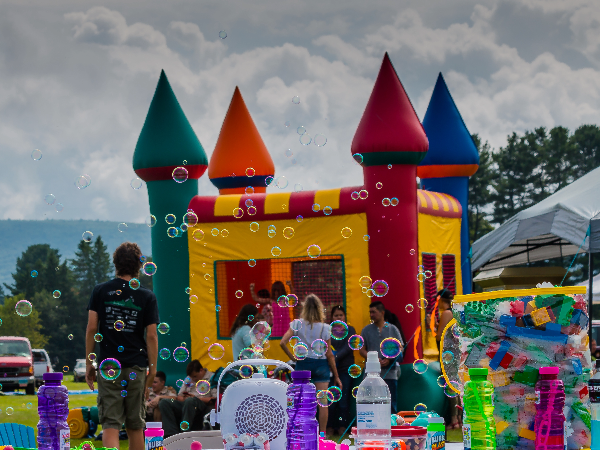 Lubbock Rental Water Slide FAQs
If you have any questions and booking a Lubbock rental water slide, you're in the right place! Browse through our frequently asked questions below and get in touch with our team if you need any additional information by giving us a call at (806) 705-7057.
Q.
How much does it cost to rent a water slide in Lubbock TX?
A.
Our rentals cover a range of budgets, ensuring you find the perfect fit for your event! Depending on the size and style of the water slide, the rental duration, and the delivery location, your total price will vary, but we're confident we offer the best water slide rental price in Lubbock TX!
Q.
How do I book water slide rentals?
A.
You can rent a blow up water slide in Lubbock TX online with our convenient reservation system. Explore our water slide options, pick your favorite, select your event details, review the price, and proceed to check out.
Q.
Are your water slide rentals safe for all ages?
A.
Absolutely! Our rental water slide in Lubbock TX is designed with safety in mind, ensuring everyone can enjoy the excitement. Safety is always our top priority!
Q.
Do you have any large water slide rentals?
A.
Yes, we do! Our range includes big water slides in Lubbock TX that are perfect for big gatherings and events, including festivals, carnivals, fairs, and more.
Q.
Do I have to keep the water slide plugged in the entire time?
A.
Yes. In order to stay inflated, the slide will need to remain connected to a power source for the duration of your event. If you don't have access to electricity, be sure to check out one of our generator rentals and it to your cart!
5-Stars for our Fabulous and Fun-Filled Lubbock TX Water Slide Rental
We're proud to offer Lubbock TX water slide rental options and services that consistently earn 5-star ratings from our amazing customers! We're not chasing stars; we're chasing those heartwarming smiles and those "best party ever" moments. Our water slide party rental in Lubbock TX service is full of passion, a sprinkle of dedication, and a whole lot of Rent J-E-R magic. Every detail, every interaction, and every rental is infused with our commitment to making your day incredible. When you work with our friendly team, you're choosing a journey filled with joy and unforgettable celebrations. Your satisfaction is our ultimate reward, and we're absolutely thrilled to continue earning those stellar reviews, one incredible event at a time! Read through a selection of our 5-star ratings below and book Lubbock TX water slide rentals online today.
Background color: Color Theme 1
What Customers are Saying
"Rent J-E-R made our summer bash unforgettable with their amazing water slide! The setup was quick and safe, and the slide itself was a major hit with kids and adults alike. The booking process was a breeze, and the team was nothing but professional. Rent J-E-R is my go-to for water slide rentals in Lubbock, hands down!"
- Zachry Z.
"Wow, what an experience! Rent J-E-R's water slide turned our garden party into a mini water park. The quality of the slide was beyond my expectations, and the service was absolutely flawless. They took care of everything, so all we had to do was enjoy ourselves. If you're planning an event, don't sleep on Rent J-E-R's water slides!"
- Juelz S.
"We booked a water slide from Rent J-E-R for our community fundraiser, and it stole the show! Not only was the slide a huge hit, but I was also really impressed by Rent J-E-R's dedication to local causes like the Lubbock Independent School District. It's great to see a company that offers fantastic service while also making a positive impact on the community. Highly recommend for anyone looking to add some splashy fun to their event!"
- Edward F.
Previous
Next