Bounce House Rental Lubbock
Book the #1 bounce house rental Lubbock has to offer from Rent J-E-R and prepare for the fun to commence! Step into a world of inflatable fun with our wide range of bounce house rentals! Perfect for birthdays, community events, or any occasion that calls for an extra dose of excitement, our bouncers are the show-stoppers you've been looking for. Whether it's a classic castle design for your little prince or princess or a thrilling obstacle course that challenges the adventurer in everyone, our selection has something for every theme and age group in Lubbock, Texas , and the surrounding areas of Lubbock County.
When it comes to safety, you and your attendees can bounce with peace of mind. All our bounce houses undergo rigorous cleaning and inspections to ensure your event is not just fun but also safe for all ages. Our team takes the time to properly install each unit and provide any necessary instructions or guidelines, so you can focus on enjoying the festivities with the top-rated bounce house rental Lubbock can't party without.
What sets Rent J-E-R apart is the personalized service that accompanies our top-notch rentals. Our friendly customer service team is on hand to help you pick the perfect bounce house that aligns with your event's needs and atmosphere. We're not just a rental service; we're your partner in creating moments that bring joy, laughter, and unforgettable memories. Browse our exciting options for a bounce house rental Lubbock guests will love and book online today!
Bounce House Lubbock: Elevate Your Next Event With Endless FUN!
Choose our team to deliver the bounce house Lubbock uses to take the fun to the next level! We bring the party to life, no matter where or when! Whether you're celebrating a birthday, treating the neighborhood to some exciting entertainment, or planning a large-scale festival for the entire county, we're here to help.
Epic Birthdays: When it comes to birthdays, we have the inventory customers use to turn the ordinary into the extraordinary! Whatever the occasion, from a baby's first birthday to your grandpa's 99th, our bounce houses will make it a day to remember. Whether you're looking for something to make the little ones jump for joy or something more refined for the adults, you will find it in our inventory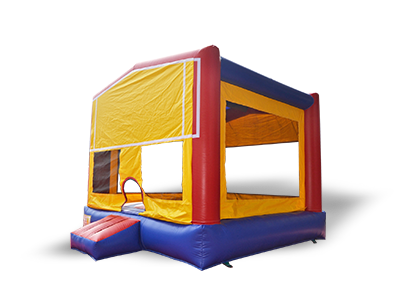 Corporate Extravaganza: Customers looking to host a corporate event often flock to our legendary bounce houses, which are perfect for team-building exercises, corporate retreats, and merit-based rewards. We've got bounce house rentals Lubbock TX corporations and businesses can rely on to boost morale in a fun and affordable way!


Weddings to Remember: When it comes to spectacular weddings, our bounce houses should not be left out. We've got bounce houses that can fit any theme and occasion, and weddings are no exception. Rent a bounce house Lubbock TX kids can jump and play in while the adults celebrate an important milestone.


Community Celebrations: Community gatherings and local festivals are always a treat for both young and old, and these events are only elevated with the addition of our Lubbock rental bounce house.


Fun Fundraisers: We put the FUN in fundraisers. Our bounce houses can be the perfect way to keep people jumping in line for a ticketed event or even give them a reason to stay longer and enjoy other fundraising opportunities.


School Field Days and Celebrations: Treat students and teachers alike to end-of-the-year celebrations, field days, fundraisers, sporting events, and activity days with the indoor bounce house Lubbock TX administrators use inside gymnasiums and other venues!
Take your party to the next level and make sure the fun doesn't stop with Ren J-E-R! We have the bounce house Lubbock uses to transform a wide range of events into spectacular experiences. From birthdays and block parties to corporate functions and community festivities, our bounce houses will make your next event one to remember.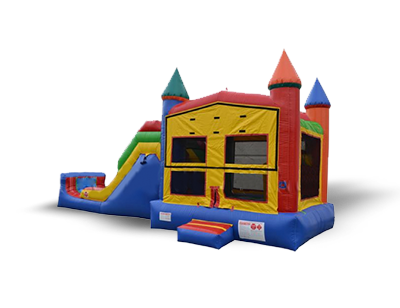 Exciting Selection of Bounce House Rentals Lubbock Kiddos Love!
Let's talk about the bounce house rentals Lubbock chooses for bounce-tastic option! Our selection of bounce house rentals is a playground of possibilities, promising an exhilarating experience for kids and adults alike. From towering castles that awaken fairy tale fantasies to vibrantly themed bouncers that spark imagination, our range is as diverse as it is thrilling. Whether you're planning a whimsical birthday celebration or a community event that needs a splash of delight, we've got the birthday bounce house rental Lubbock TX uses to find the perfect match. With an unwavering commitment to quality and a passion for delivering smiles, our team's bounce house rentals are the key to transforming any event into an unforgettable adventure. Dive into our collection and let the bouncing begin!
Kick off your next party with our awesome Rainbow Bounce House, starting at just $129.00! This action-packed inflatable is a total hit for kiddo shindigs and all sorts of events. Imagine the laughs and giggles as they bounce around for hours! Crafted from top-notch materials, it's not just fun but also safe and sturdy. This is the kid's bounce house rental Lubbock TX parents can count on for safe, age-friendly fun. Ideal for backyard get-togethers, school festivities, you name it.
Step into a world of vibrant fun with Rent J-E-R's Green Castle bounce house. This is the ultimate delight for any event! Starting at just $119.00, this enchanting bounce house opens the doors to endless play and excitement. With dimensions of 15'Lx15'Wx18'H, it offers a spacious haven for kids to bounce and explore. Hosting an event is a breeze with this bounce house; you'll only need one outlet to keep the fun going. The Green Castle isn't just an inflatable; it's a realm where laughter reigns and imagination takes flight. Whether it's a birthday celebration or a community gathering, this bounce house promises to be the highlight of the day. Elevate your event with the Green Castle bounce house from our company and create memories that last a lifetime!
Ahoy, adventurers and swashbucklers! Set sail for an epic journey with our team's Pirate Bounce House – an extraordinary world of imagination and play. For just $129.00, you can transform your event into a pirate's paradise with this unique bounce house that boasts a striking all-black design, complete with four inflatable pillars and majestic flags resembling a mighty ship. As if that weren't enough, there's a grand inflatable cannon right above the entrance, ready to welcome aspiring buccaneers. Designed for toddlers to teenagers, this bounce house isn't just an inflatable – it's an immersive experience that invites kids to embark on a thrilling pirate adventure. Whether it's a birthday party or a special celebration, the Pirate Bounce House promises to be the highlight of the day. Hoist the anchor, raise the flag, and bring excitement to your event with the Pirate Bounce House!
How To Rent A Bounce House Lubbock TX Uses For Ultimate Fun
We make it easy to rent a bounce house Lubbock TX can use for ultimate fun with our online booking system. Whether you're working away at your desk or sitting comfortably on your couch, our user-friendly booking platform is Get ready to bounce into action by following these simple steps:
Select Your Bounce House Rental Option: Dive into our collection of bounce houses and choose the one that suits your event's theme and size. From pirate ships to colorful castles, we've got options that will spark everyone's imagination!


Pick Your Rental Date: Once you've found the perfect bounce house rental near Lubbock TX, select the date when your event is set to take place.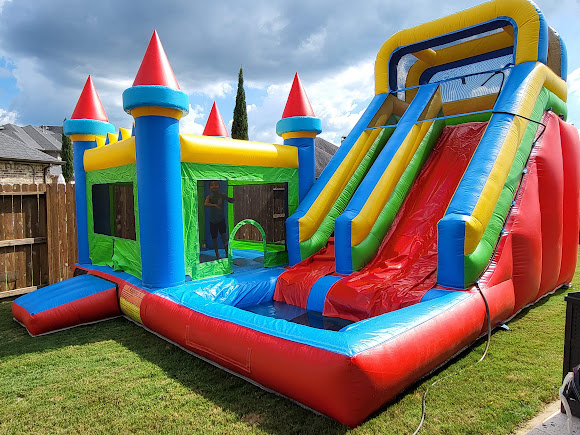 Choose Your Event Start Time: Indicate the time you want the bouncing fun to begin. This helps us ensure that your setup is ready for action well before your guests arrive.


Choose Your Event End Time: Let us know when the fun is stopping so that we can tear down our equipment and get it out of your hair.


Review Your Cart: Take a moment to review your selections and the grand total, including sales tax. We want to make sure everything matches your expectations.


Check Out: Once you're satisfied with your choices, proceed to the checkout. We'll guide you through the payment process, and you'll be all set to bring the bounce to your event!
Be on the lookout for a confirmation email from our team, including a digital copy of your receipt. If you'd rather rent a bounce house in Lubbock over the phone, feel free to give us a call at (806) 705-7057 and we'll be happy to help you start the process! Customers looking to rent a bounce house Lubbock TX loves will be amazed by how straightforward and stress-free our process is. Ready to add a burst of excitement to your event? Let's make it happen!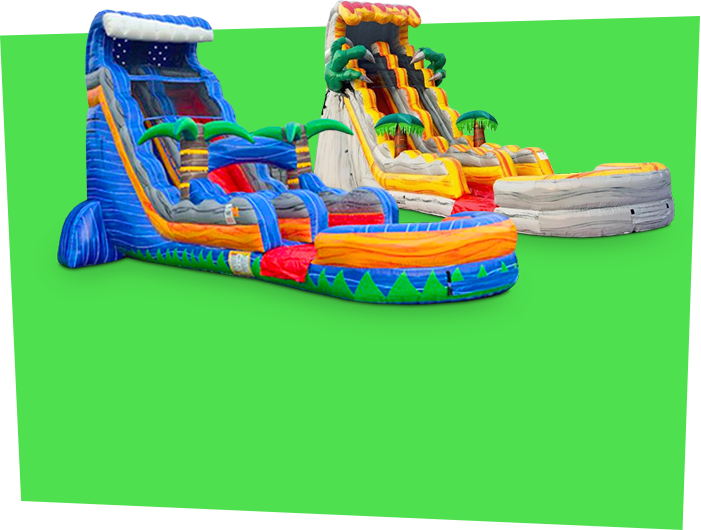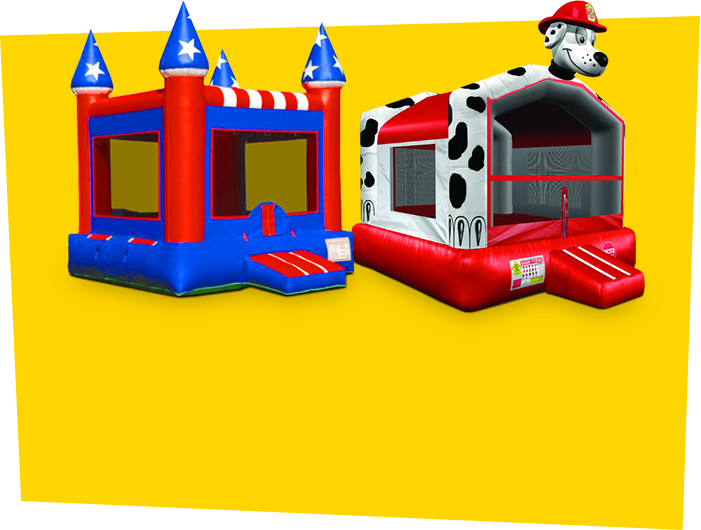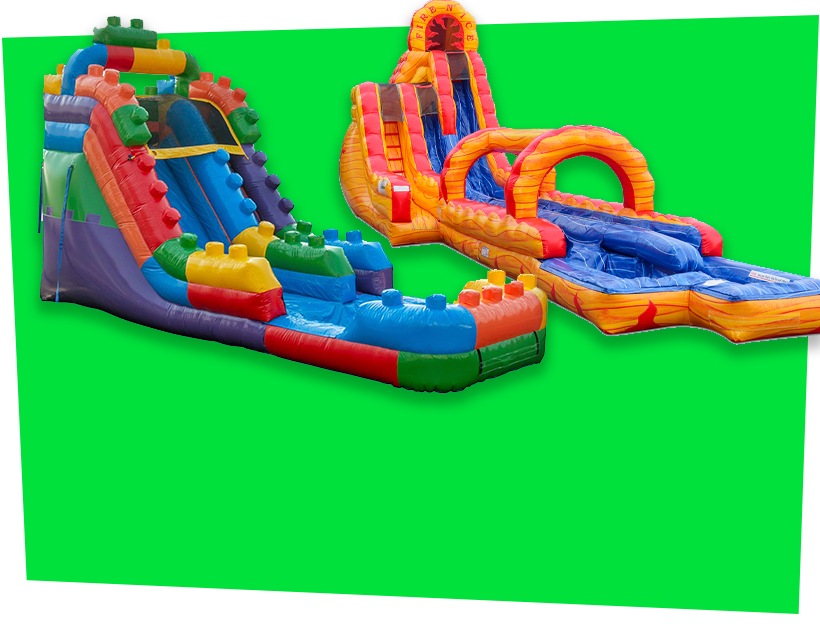 Bounce House Lubbock: Delivering Bouncers Across the County!
If you're on the hunt for the best bounce house Lubbock has to offer, you're in the right place! At Rent J-E-R, we're more than just a party rental service; we're an integral part of the Lubbock County community. From local fundraisers to school carnivals at the Lubbock Independent School District and community picnics at Mackenzie Park, Clapp Park, and Maxey Park, we've been privileged to contribute to the events that make our area so special. Our commitment to the community goes beyond providing exceptional rental services; we actively engage with local initiatives and organizations to make a positive impact. It's our way of giving back to the community that has supported us for years, including the 79401, 79402, 79403, 79404, 79406, 79407, 79408, 79409, 79410, 79411, 79412, 79413, 79414, 79415, 79416, 79423, and 79424 zip codes.
One of our core values is accessibility, and that's why we're proud to offer delivery services across a broad range of areas within Lubbock County. Whether you're planning a backyard birthday bash in Wolfforth or a corporate event in Idalou, you can count on Rent J-E-R to bring the party essentials right to your doorstep. Our reliable delivery team ensures that your rentals arrive on time and in immaculate condition, so your event can go off without a hitch.
Our community focus and extensive service range are a testament to our dedication to meeting the unique needs of our diverse clientele with thrilling options for a bounce house Lubbock parents, administrators, businesses, and individuals can count on to elevate the fun factor at any event. When you choose our locally owned and family-operated company, you're not just getting high-quality rentals; you're also supporting a business that's committed to enriching the Lubbock County community. Let's build something exhilarating together, one bouncy event at a time!
FAQs About Our Lubbock Bounce House Rentals
Curious about our Lubbock bounce house rentals? You're in the right place! Whether you need more details about pricing, processes, or policies, we're here to help. Check out our FAQs section for quick answers to your burning questions, and get in touch with our team if you need any additional information.
Q.
How much does it cost to rent a bounce house in Lubbock TX?
A.
Customers wondering how much to rent a bounce house in Lubbock will find that pricing varies depending on the style and size of the unit, as well as the rental timeframe. We understand many customers are on the hunt for a cheap bounce house rental Lubbock TX can depend on. Our rentals cover a range of budgets, ensuring you find the perfect fit for your event! Just add your desired bouncer to your cart, input your delivery information, and view your customized grand total at checkout.
Q.
How do I book bounce house rentals?
A.
Booking the inflatable bounce house rental Lubbock TX prefers is a breeze! Simply browse our inventory, pick your preferred bounce house, select your event details, review the price, and proceed to check out. It's that simple to book online, or you can give us a call to make a reservation over the phone if you're not sure how to rent a bounce house in Lubbock online!
Q.
Are your bounce house rentals safe for all ages?
A.
Absolutely! We've got the blow up bounce house rental Lubbock TX trusts to be designed with safety in mind, accommodating guests of all ages, from toddlers to teens! You can enjoy worry-free bouncing fun for everyone with our kid-friendly Lubbock bounce house rentals.
Q.
Do you have any large bounce house rentals for community events?
A.
Yes! We carry large Lubbock TX bounce house rentals that are perfect for accommodating community-wide gatherings and events where large groups are expected to attend.
Q.
Do you carry any themed bounce house rentals?
A.
Definitely. Events are made extra special with the added touch of charm that themed bounce houses bring! Check out our bouncy castles to make the little princes and princesses in your life feel like royalty or the exciting pirate bounce house for a swashbuckling adventure that won't be forgotten! Don't forget to check out our other exciting options, including concessions, obstacle courses, interactive games, and the water slide rental Lubbock can't get enough of to add to your themed event!
Positive Reviews for our Lubbock TX Bounce House Options
We're thrilled that our Lubbock TX bounce house services consistently receive glowing 5-star ratings! With our team, we don't just deliver rentals; we deliver moments of pure joy and memories that stick. From the initial hello to the final high-five, your satisfaction is our North Star. We're not here just to meet expectations; we're here to exceed them, leaving you with an experience that's worth every glittering star.
We're the obvious choice to go to when you're looking to rent a bounce house in Lubbock Texas because our team is more than just a group of professionals. We're your partners in creating unforgettable events. Every detail, every interaction, and every rental are infused with a commitment to making your day extraordinary. When you choose Rent J-E-R, you're not just choosing a rental; you're choosing a joyful journey that ends with a five-star celebration. Your happiness is our ultimate badge of honor, and w​​e're thrilled to continue earning those shining reviews, one incredible event at a time!
Background color: Color Theme 1
What Customers are Saying
"Rent J-E-R, you're my party heroes! I recently rented their bounce house for my daughter's birthday, and the joy it brought was simply priceless. The setup was a breeze, the bounce house was clean and vibrant, and the kids had a blast bouncing away for hours. The Rent J-E-R team made the entire process smooth and enjoyable. From now on, you're my go-to for party fun!"
- Anthony W.
"I couldn't have asked for a better experience with Rent J-E-R! I rented their elegant seating arrangements and dance floor for my wedding, and they turned my vision into reality. The quality and attention to detail were impeccable. The team was so accommodating, ensuring everything was set up perfectly. My guests were raving about the ambiance, and I owe it all to Rent J-E-R. Thank you for making my big day truly special!"
- Allison B.
"Hats off to Rent J-E-R for making my son's birthday an unforgettable event! We opted for their pirate-themed bounce house, and it was an absolute hit with the kids. The bounce house was exactly as described, complete with impressive details. The Rent J-E-R team's professionalism and enthusiasm stood out. If you're looking to add that extra spark to your event, don't think twice – Rent J-E-R is the way to go!
- Becca L.
Previous
Next